Our business is driven by our customers, we will let them do the talking:


Learnt to drive with Jonathan in and around Edinburgh City centre. Throughout he was supportive, relaxing and would give ideas and personal experiences that made learning to drive an experience to remember! Would recommend his company to everyone! Excellent!


Lorraine Cahill
- Airdrie
Learning to drive with Dimtris was great! We covered a lot quickly, but there was enough time to go through everything needed and practice it well in time for the practical test. However, the lessons were also exciting! I would definitely recommend this driving school. Thanks Dimtris for helping me get my license!


Ashray Shastry
- Edinburgh


Spent 4 hrs with Johnathan and then passed a B+E test first time with flying colours.
Would recommend Bananas Driver Training.
To anyone if they are considering to learn to drive.
Johnathan was friendly, and generally was a great instructer.


Stephen Reid
- Edinburgh
Jonathan went well above and beyond the call of duty by clearing the snow and ice from the test center reversing area to allow my test to go ahead. His clear instruction made the whole process very straight forward. Many thanks for getting me through my B+E car and trailer test.


Graham Ralston
- Kirriemuir
Recommend Bananas Jonathan and thanks for getting me to my test!! Passed today and v.happy!!!
Marianne Hunter - Portobello Edinburgh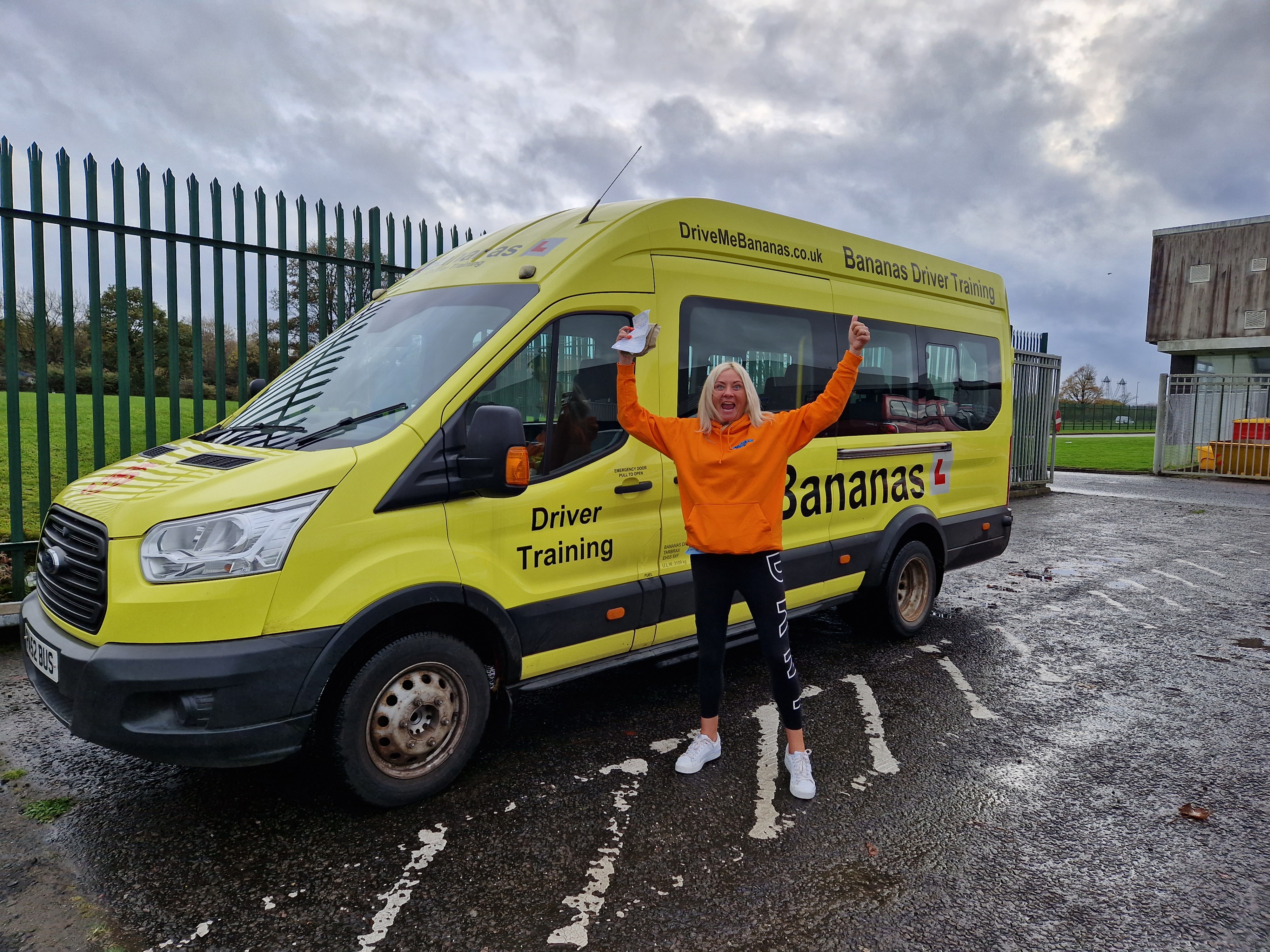 A huge thank you from me to Johnathon at bananas .. you honestly have the patience of a saint and I cannot thank you enough for everything you have taught me . After 20 years of driving I cannot believe how much more I still had to learn to support my driving and transportation of kids .. you enhanced my driving greatly and could never have got through the test without your amazing and informative advice and guidance
Will recommend to everyone without hesitation for reliability , communication , price and support .. superb
Thank you
Teresa - Skoolz out Bearsden
Testimonials
Are you looking for the best quality driving lessons?
Do you want to pass your driving test quickly?
Do you want to save money and pass as cost effectively as possible?
Do you want to pass first time?

If the answer is YES....

Then get in touch and lets make it happen!



Recent News
Read our Blog


DSA change their advice
about driving lessons:
On average, people who pass their driving test have had 47 hours of driving lessons
with a driving instructor and 20 hours of private practice.
This has increased from the previously recommended 45 hours of professional driving tuition.
Government suggest changes to learning to drive and the Driving Test.
Buying your first car?

Have a read at our tips on buying a car.
Are Cheap Driving Lessons Cost Effective?


R

ead our Article on the true cost of learning to drive.
Learn to drive in a Skoda Yeti 4x4
How to Choose a Driving Instructor in Edinburgh
Can you pass your driving test in just one week?
Recent B+E car and trailer test passes
Advanced Driving with Road Craft
How to deal with Lothian Buses
How to deal with Edinburgh Trams
Learning to drive after amputation
Learning to tow a trailer or caravan
D1 Minibus training Edinburgh Glasgow Stirling

Useful Links
Apply for Provisional Driving Licence
Apply for Replacement Driving Licence
Report Driving Instructors who charge money for driver training without displaying a valid Instructors Badge
Book your Theory Test
Book your Practical Test
Driving Licence Requirements for Motorhomes
Highway Code Online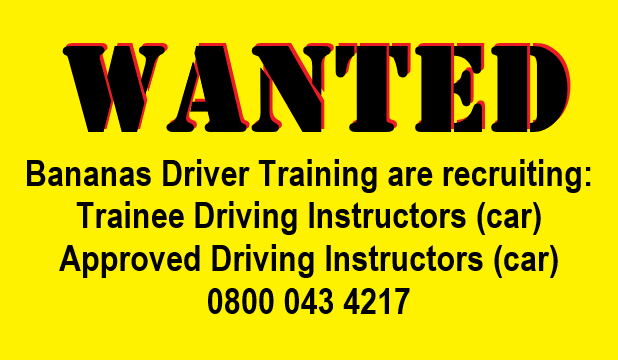 Statutory Information




Bananas Driver Training (Drive Me Bananas School of Motoring)
252 Viewfield Road
EH55 8XF


B+E car and trailer training Edinburgh
,
B+E van and trailer test Scottish Borders
BE trailer towing test Glasgow
,
B+E van and trailer training Perth
,
Caravan safety training Dundee
,
Trailer test Fife,
D1 minibus training edinburgh, glasgow, stirling, larbert, falkirk, dunfermline, kirkcaldy, dundee, st andrews, fife, midlothian, east lothian, lothian buses, livingston, glenrothes, calander, aberfoyle, crief, inverness, newcastle, birmingham, london, bristol, nottingham, armadale, west calder, bus pcv psv lgv hgv D1E D1+E C1 C1E Ambulance Horse lorry Scottish Ambulance Service C1 Training
Site Map
Go Bananas Driver Trainng, Driving Me Bananas Driving School, Bananas are Yellow, Driven Bananas.


© Drive Me Bananas School of Motoring Edinburgh 2007 - 2023