What our customers say: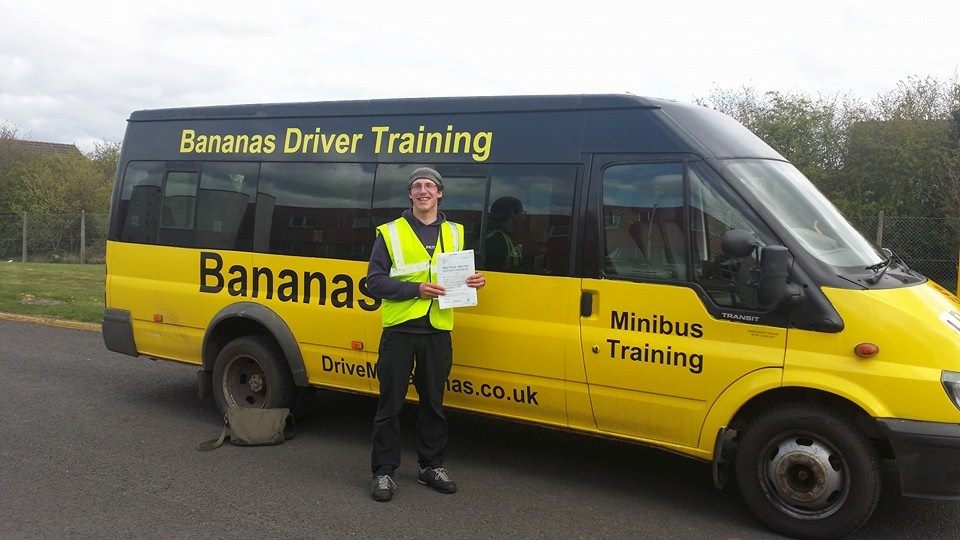 "Jonathan was great. He seemed to find the perfect balance between working on the areas of my driving that needed practice and not overcrowding my nervous mind with too much information! I went in to the test with a full understanding of EXACTLY what I needed to do to pass. He's a top bloke and I'll be recommending him to any of my friends that are considering minibus or trailer training" Cam Wheeler, Glasgow
Dimitris helped build my confidence in my driving and helped and supported me all the way to my driving test, which thanks to him I passed first time :)

Kirstin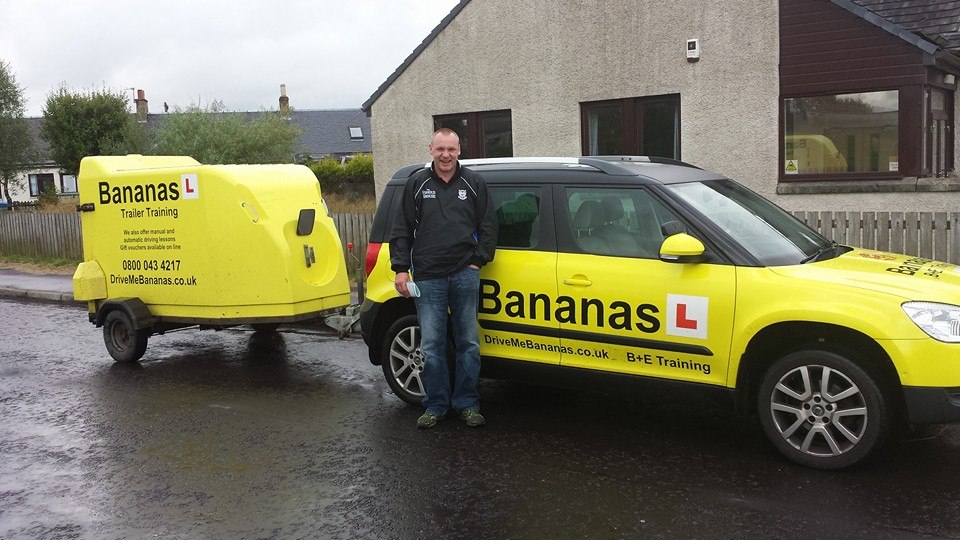 I cannot fault jonathan he was patient and explained and talked me through all aspects of lesson and and what to expect in test. I would recomend drive me bananas to anyone.


Simon Moffat
Penicuik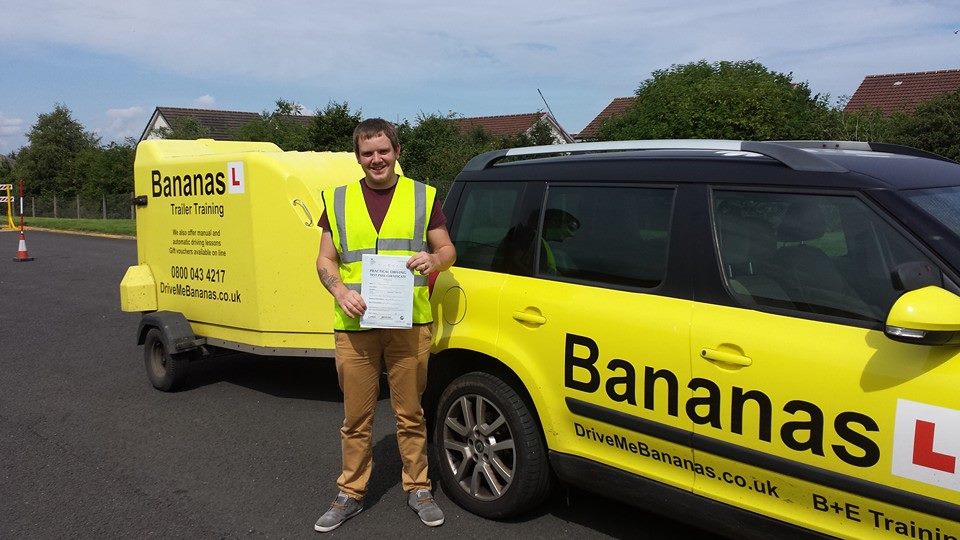 Thanks to Jonathan at drive me bananas brilliant instructor helped me pass B+E test first time recommend this to anyone wanting to learn thanks again :-)


Martin Curran
Jonathan was an absolute brilliant instructor and got me through my trailer test in 1 day, highly recommended


Sam McCaskill
Dimitris was my instructor and I passed today! It is still sinking in! Dimitris has been a superb instructor always reinforcing positives and weeding out the mistakes. I had a few tests each time failing narrowly, nerves were a bit of a problem, but I didn't give up because Dimitris was absolutely certain, and then I was too, that I would pass. It also helps that Dimitris is passionate about
driving and teaching, keeping drivers safe on the roads long after the test is over, and is also incredibly patient. Thankyou! Carmel (14 july 2014)
Just a quick line to thank Jonathan and Bananas driver training for assisting me to gain my B+E entitlement. Jonathan's professional approach to the training was to a level more than you would expect. Truly outstanding and highly recommended.

Once again, thank you for time and advice

Elliot Cooper - Denny
Great day today passed trailer test first time with no faults all thanks to Jonathan and his calm and relaxing attitude makes the cost of the day worth while. Will defiantly be sending others to him.


Stuart ross
Gorebridge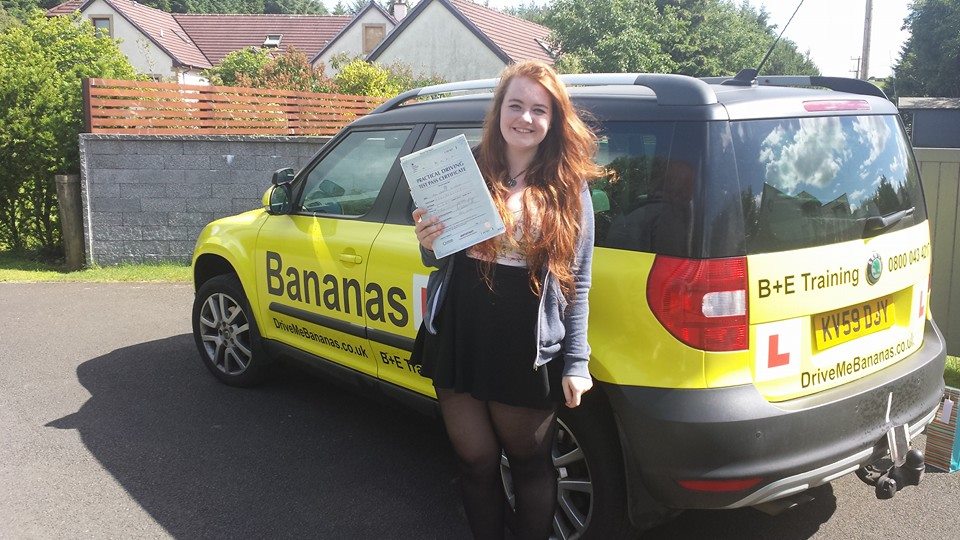 My daughter took a semi intensive driving course with Jonathan and today she passed her test first time. She was a VERY nervous driver and the difference he made was incredible. When she sat her test she was confident and relaxed. Absolutely well worth the money and I'm totally delighted with the outcome. Highly, highly recommended.
Eveline J Harvey
Livingston
Lindsay Bowden
Dimitris has the patience of a saint!! He is a great teacher and coped very well with a very nervous driver! Thank you Dimitris!
A brilliant experience learning to drive with Jonathan! Very competitive price and certainly value for money! His patience and tutoring skills and passion in what he does makes you want to succeed! Would recommend to anyone I know who is thinking of getting into driving.

Donna Crawford
Livingston
I would like to say a huge thank you to Jonathan for my b+e training this week helping me to pass my test. I would definitely recommend you for trailer training! Thanks again
kirsty alexander



Very pleased with the instruction. Informal atmosphere meant I was relaxed and not too worried going into exam. A few helpful tips made the reverse manoeuvre straightforward. Thanks again. Alex Coram
For the price that you pay none can compare with what you get. The service and quality you receive is excellent.
Never late to arrive at pick up point. Friendly atmosphere. Great instruction, and always clear when explaining manoeuvre and the best way to complete them.
The cars that you drive are clean, safe and in great working order.


Calum Grigor
Edinburgh

Thanks very much a well demonstrated, instructed course and test, would recommend to others. Very relaxed and comfortablewith training thanks again.


Paul Doherty - Glasgow
I used Jonathon at Drive Bananas to pass my B+E trailer test. The quality of service I received throughout the day was excellent. Jonathon managed to cram all the training and test into one day which suited my needs. I am now able to use a trailer for my landscaping business. If I need to send any of my employees to do the training and test I know where I am going. Thanks Jonathon.


Fraser Anderson
- Penicuik
I recently passed my B+E trailer test with Jonathan with a 4 hour course. He tells you what you need to know to pass the test and be safe towing a trailer, cuts out all the pointless stuff that wont help you pass the test.
Very good value for money and worth every penny as most other instructors would only do a 3 day.
He is clear in his instructions and has plenty patience.
Thanks Again!


Shaun Forsyth
- Forfar
So today I did my B+E trailer training and test with Jonathan. It was a rather wet day but that did not put a dampner on it. The learning started straight away and my instructor explained everything perfectly clear and I could not have asked for any better. For something that seemed somewhat technical was made very simple and was a very relaxed experience. I would highly recomend drive me bananas to anyone. Thank you again Jonathan.
Absolutely 100% value for money.
I had a lesson for the B+E licence and then the test a week later and passed first time. Jonathan cuts out all the faff and teaches you exactly what you need to know (and a bit more besides).
Very helpful and friendly, I would highly recommend him to a friend/colleague! John Higson - Edinburgh
I sat my B+E trailer test after less than 5 hours of instruction from Jonathan and passed first time with 4 minors... Which were down to poor observational skills by myself and nothing to do with his instruction! Clear, concise, comprehensive, patient and friendly, I'd recommend him to anyone, and I will be using him again in future should I; or anyone at my company; need additions to our licences. 5 stars! Shaun Cassidy - Dalkeith
Wants to say a big massive thank u to

Jonathan Smith

for helping me past my test would recommend drive me bananas driving school to anyone

thank u again Jonathan






Drive me Bananas is a great driving school. I passed my B+E test with them and i would reccomend them to anyone wanting to pass this or any other kind of driving test.





I passed after lerning to drive with Dimitris. He was a great instructor and very patient with me on our long road (no pun intended) to help me pass my test!

William Tabbutt - Edinburgh





Passed my Category B&E driving test first time after five hours of lessons with Jonathan. Cant recommend him enough, professional and easy going and explained everything clearly and was very encouraging! Thanks! Nicola Harper.





Thanks to Jonathan for the use of his services which allowed me to pass first time and on the same days as taking my first lesson with a trailer. Jonathan's instruction made the whole experience straight forward and a lot less troublesome than i thought it would be. Highly recommended!

David Greenan - Edinburgh



Thank you very much for sticking it out with me jonathan great instructor very patient and I can say if you want to pass then bananas is the one for you

you wont be disappoint big thank you again cheers

James Lyall - Edinburgh




I have recently passed my test with Drive me Bananas and would recommend them to anyone especially Dimitris, he was great to work with and I hope you would choose him to teach you to drive.



Robbie Cattlin - Dalkeith




After taking weekly lessons with 3 different driving instructors, i didn't feel it was working for me. I came to Dimitris and asked for intensive lessons and after 3 days of lessons, i sat my test and passed first time. After driving with Dimitris i felt really confident in my driving ability and im looking forward to taking my driving further by sitting the Pass Plus Scheme with Drive Me Banana's



Gale Scott

- Edinburgh



Learnt to drive with Jonathan in and around Edinburgh City centre. Throughout he was supportive, relaxing and would give ideas and personal experiences that made learning to drive an experience to remember! Would recommend his company to everyone! Excellent!



Lorraine Cahill

- Airdrie



A big huge thanks to jonathan who got me thro my driving test on wensday i wood highly recommend him to any 1 who wishes to learn to drive.

Shaun Ramsay - Loanhead Midlothian



Learning to drive with Dimtris was great! We covered a lot quickly, but there was enough time to go through everything needed and practice it well in time for the practical test. However, the lessons were also exciting! I would definitely recommend this driving school. Thanks Dimtris for helping me get my license!



Ashray Shastry

- Edinburgh




Jonathan is a great instructor, he was always on time, patient and good at explaining what was required. I would reccommend him to anyone wanting to do the vocational B+E test or indeed undertake thier inital driver training.



Emma Dalley - Edinburgh






Spent 4 hrs with Johnathan and then passed a B+E test first time with flying colours.




Would recommend Bananas Driver Training.


To anyone if they are considering to learn to drive.


Johnathan was friendly, and generally was a great instructer.



Stephen Reid

- Edinburgh




I would like to thank Jonathan for getting my lessons and test sorted out quickly and efficiently and getting me through my test first time, most of the time in some awfull winter weather and going beyond what would be expected. 10/10



Callum Jones

- Edinburgh




Jonathan went well above and beyond the call of duty by clearing the snow and ice from the test center reversing area to allow my test to go ahead. His clear instruction made the whole process very straight forward. Many thanks for getting me through my B+E car and trailer test.



Graham Ralston

- Kirriemuir



Recommend Bananas Jonathan and thanks for getting me to my test!! Passed today and v.happy!!!





Marianne Hunter - Portobello Edinburgh



Had a great retraining session with jonathan in preparation for delivery of my new hand controlled car. He was excellent and quickly put me at my ease. I was soon driving with some confidence and ready to take up the challenge ahead! I highly recommend jonathan who was patient and encouraging. He was gentle yet reassuring and his enthusiams rubbed off. Thank you jonathan.

Annemarie Monaghan - Bearsden



Had a great experience with Drive Me Bananas Jonathan is a great tutor with one thing in mind passing your test. I would highly recommend.



Neil Anderson

- Larbert




Great instructor, easy to understand, very punctional was at test centre before me!! Would def recommend.



Duncan Cowan

- Falkirk




Over the moon with Drive me Bananas! Passed first time today - despite being a bag of nerves and stupidity. Thanks a million Jonathan - the most patient and diligent instructor on the road.





Jennifer Jones

- Edinburgh

I strongly recommend Drive me Bananas school of motoring. My instructor Jonathan was amazingly patient and very funny. Thanks to him I passed my test first time!



Alys Barclay

- Edinburgh


If you are looking for a good driving instructor, i can highly recomend Jonathan, great teaching skills, will make you feel confident driving which helps a lot during your test. He got me through 1st time when i thought i had no chance.



Malcolm Winning

- Tranent



I am pleased to say I have passed my test first attempt with 1 minor with Dimitri. He is a fantastic instructor if you give him a date you want to pass by he will have you ready. I would recommend Dimitri he teaches you to the best of your ability and if you are not sure on something he will demonstrate and teach you until you have grasped it. He puts a lot of time and effort in to training his drivers and he cares. Thank You!!! DIMITRI. Ioanna.



Ioanna Sfyri

- Edinburgh

My lessons were taught by Gordon Ratcliffe, who is a fantastic instructor. I passed on my first attempt due to his ability to quickly identify what needs to be improved and pushes you to perform the best you can, but he does not do this in a demanding/negative manner. His lessons were always enjoyable, we would have casual conversations which created a very relaxed atmosphere and this was a big factor in helping me become a confident driver. Gordon is an instructor who genuinely wants you to do the best you can. The 15 lessons were definitely worth the money. I highly recommend Gordon Ratcliffe to any potential learners.



Clement Shek

- Edinburgh



Dimitris training plan proved to be really efficient as I managed to pass my test on my first attempt after a two-month intensive scheme. I was practically a new driver and he covered all the aspects of driving, from the very basics to the trickiest manoeuvres. His explanations are really illustrative and he goes through them with patience and professionalism. Not only he helped me to be ready for the test, but also to build my confidence as a driver.





Wenyi Cai

- Edinburgh

I started lessons with Dimitris from Drive me Bananas in June 2012, having no experience on a manual car and in desperate need of a licence. Dimitris not only gave excellent tuition but was also patient, encouraging and dedicated in ensuring the success of his students. Thanks to him, in less than a month I passed at Musselburgh Test Centre on my first attempt (11/07/2012). I would highly recommend Dimitris and Drive Me Bananas to anyone learning to drive.





Alasdair Poulter-Dunford

- Tranent

I had Gordon as my instructor, It was a great experience and he was a helpful instructor, patient and quick to evaluate my current driving skills and develop them as well as giving me useful guidelines and tips. Was flexible regarding lesson time and locations, which was handy when I wanted to start from work, and finish at home or vice-versa.





Daniel McFarline

- Edinburgh

I learned to drive with Gordon Ratcliffe and could not have hoped for a better instructor. He was very good at identifying my strengths and weaknesses and structuring lessons in a manner which was suited to my individual needs. His teaching methods are straightforward and effective. His personal qualities are well suited to teaching - patience, good communication skills, empathy and a sense of humour! He was very helpful in supplying resources such as helpsheets (at no extra charge) to assist with all of the knowledge-based aspects of learning to drive.




It was an altogether thoroughly positive experience and under Gordon's expert tuition I passed my test and feel confident and safe on the roads.





Pearce Cusack

- Edinburgh

I had my lessons with dimitris he was a very good instructor very patient and understanding helped mr pass my test first time would recomend dimitris to anyone !!


Joelle vazquez.



Joelle Vazquez

- Bonnyrigg

I passed my test first time on the 10th April 2012. My instructor was Gordon Ratcliffe who was excellent and I would highly recommend him to anyone. Thanks to him I feel confident and safe behind the wheel of a car. Thanks again Gordon.



Scott Tully

- Edinburgh

I had Gordon Ratcliffe as my instructor. I had previously been having lessons with another instructor from another company, I felt I was making no progress and tried a lesson with Gordon, within my first lesson I had practiced all my manoeuvres and been taken all around Edinburgh and not just the same route as I had done with my former instructor. I was quite a nervous driver and he immediate put me at ease and I felt I was progressing at a faster rate. His approach as an instructor was exceptional and he not only taught me how to drive but also instilled practices to make me a safe and competent driver. He didn't just focus on helping me to pass my test but for me to become a good driver. I can't thank him enough and can't recommend him enough. An exceptional and patient instructor.



Amer Shafat

- Musselburgh

I had Gordon Ratcliffe as a driving instructor and he was fantastic! He made me feel really at ease and I passed my driving test first time. I'm such a confident. He is very supportive and patient.



Jenny Collins

- Edinburgh

My instructor was Dimitris, and he was excellent. He quickly got me driving, manoeuvring, and built confidence in my abilities to pass the test (2nd attempt). Highly recommend.



Jackson Pauls

- Edinburgh



Drive me bananas should be called TOP BANANA!!


I can't thank Jonathan for getting me through my test 1ST TIME! A hugh thank you and i will most definitely be recommending you. I had three -four hour lessons and two individual ones after that then I sat my test.. I was a nervous wreck on the day but jonathan gave me reassurance and great advice and low and behold i PASSED FIRST TIME. Many Thanks Jonathan and beep beep... Jillian.



Jillian Western

- Edinburgh

I can't thank Jonathan enough for his patience, he's an excellent instructor. It's taken me 20 years to get the confidence to take driving lessons again and I definately went with the right person. I can't praise him enough.



Gail Wood

- Edinburgh

Thanks again to my instructor Gordon, who has been a brilliant instructor and support on the lead up to my test. Still overjoyed to have passed and very grateful to Gordon for being flexible and working around my timetable, I really enjoyed my lessons with him and would definitely recommend anyone else who is looking for an instructor.



Tamsin Ansdell

- Edinburgh

I was very nervous about taking driving lessons, however my Drive me Bananas instructor put me at ease very quickly. He was always punctual, never cancelled a lesson and accommodated lesson times to my schedule. His teaching methods and sense of humour kept me relaxed. Thanks to Drive me Bananas school of motoring I passed my test 1st time!



Alys Barclay

- Edinburgh

I would like to offer a huge thanks to Gordon for being the most patient, understanding, friendly and down to earth driving instructor. I passed my test today - first time! And it's all thanks to him. He went out of his way to fit me in where possible and always kept a calm, easy-going atmosphere in the lessons. He is meticulous and thorough to ensure safe driving at all times, I enjoyed every lesson. Highly recommended! Nikki Marshall



Nikki Marshall

- Edinburgh

After trying lessons with two other local driving schools and being disappointed with the quality, service and instruction methods of both, I was delighted to finally be taught by Gordon and managed to pass my test first time yesterday! Gordon was everything you could hope an instructor to be; friendly, down to earth, patient, supportive, understanding, inspiring, calm and of course informative. I came away from every lesson safe in the knowledge that I had learnt something new that day and that I wasn't just paying to drive a car, I was paying to be taught how to drive a car. I can not recommend him highly enough.



Poppy Kemp

- Rosewell

I had Dimitris as my insructor and he was great. always kept pushing me to do my best and made me feel like i could do it. he would always keep on that one thing if you wernt getting the hang of it and make sure you did. overall i think hes a really good instructor and i thank him alot for helping me to get the pass i wanted :)



Mark Macdonald

- Prestonpans

Big Thank you to drive me bananas, My instructor was demitris, a fantastic instructor and an all round nice guy. I had done lessons before else where and did not get on with instructors, then my daughter found dmb and it was the best thing i have now passed my test and have been driving since july. so thank you to demitris for being relaxed, calm and breaking things down so it was easier to learn. demitris is now training my daughter and son i would recommend him every time Thank you



Darren gunnell

- Haddington



I've just passed my test yesterday at the 1st attempt (GET IN) after starting lessons at the end of January this year. Took me about 40 hours of lessons in total. Before my 1st lesson I had never been behind the wheel of a car and what knowledge I had of the highway code or cars in general you could have written on a postage stamp.





My instructor was Adrian and right from the start the guy made me feel comfortable, he was chatty and down to earth but at the same time very good at teaching me how to drive in a way that was easy to understand. He was always on time for lessons and never cancelled at the last minute or failed to turn up as I have heard can happen with other companies.





If he can get me passed then anyone can pass. I remember looking at the roll of honour of people who had passed on the Drive Me Bananas website about 3 months ago and thinking, I can't wait until I am eligible to post on here. Thanks again to Adrian for all his help and patience.





Chris Harrison




Gorgie Road


Edinburgh



Chris Harrison

- Edinburgh

Ive jus passed my test today and i want to say thank you to my instructor Dimitris, who is a very proffessional but also very very chilled driving instructor who seems to have endless amounts of patience and skill in transmiting his fantastic teaching technique. I passed my test first time with only two faults after three months training and at 39 yrs of age this was quite an undertaking, but with the help and concern of my teacher I now have a driving licence. I wouldnt hesitate to recommend this man to anyone. Once again thank you drive me bananas and a special big thank you to Dimitris for all the enjoyable and important lessons. M. Maxwell



Matthew Maxwell

- Edinburgh

EXCELLENT, Passed today (6th time) thanks to Jonathan, without him I would have still been learning or had given up! Will be recommending to friends/family :)



Karen Vernon

- Musselburgh

I passed my test a couple of months back but haven't had a chance till now to write and say thank you to my instructor Dimitris. I was under pressure to pass my test quickly for personal reasons and he understood my situation and treated me as a priority. He put me at complete ease and after a couple of weeks intensive practice, I passed on my first try. I have no doubt I wouldn't have been able to if it hadn't been for his patient and encouraging tuition! Thank you so much Dimitris. Daniel Boswell



Daniel Boswell

- Edinburgh

A MASSIVE thank you to Dimitri for his never-ending patience and making sure I knew what I was doing and correcting me there and then when I went wrong. Many thanks for keeping me his pupil when I moved way outside of the city and driving 1h+ for my lessons. This was very much appreciated. This was indeed a worthy investment. Thanks also to those who covered my lessons when Dimitri was away, I will definitely be recommending DMB!!!!



Sandra Chiwanza

- Broxburn

Tracy was a great instructor: she has a very patient, clear teaching style and made the whole driving process highly enjoyable. Drive me bananas got back to me quickly after I got in touch, and it was very easy to contact Tracy at all times. I was able to pass first time in Musselburgh! Many thanks! Maddy



Maddy

- Edinburgh



I would like to say a huge thanks to Dimitris and would highly recommend him to anyone wanting to learn to drive, he is very patient, calm and also professional, he made learning to drive a fun and enjoyable experience. He has a real passion for driving and it shows, thanks again Dimitris :)


Carol



Carol Sykes

- Tranent



I was always fearful of driving but i took lessons with Dimitri over a few months. I would highly recommend the company but most importantly Dimitri who not only gave me the confidence that i could drive but the knowledge and skill to pass first time. I can't thank you enough for the joy and freedom that i am getting from driving.


Sarah



Sarah Anne O'Loughlin

- Edinburgh

I had a really good time learning to drive with Adrian. He's a really good instructor: very patient, knowledgeable and friendly. I couldn't recommend him more! I enjoyed my lessons immensely and passed my test first time in Musselburgh.



Amy Middlemast

- Edinburgh

Just passed my test first time (12/01/11), with only one minor thanks to Dimitris! I only started learning in September and never thought I would get my licence so quickly.


Dimitris stayed patient through all the temper tantrums and made me believe in myself. I honestly don't know how he put up with my strops!


He is a fantastic instructor and a lovely person too. I'll miss the laughs during the lessons!! Would recommend to anyone :)



Kat Manson

- Edinburgh

Many thanks to Dimitris at DrivemeBananas for taking a driver with 17 years of fear after failing twice and giving me the confidence to pass first time after my new lessons.



Ruchir Shah

- Edinburgh

Robert Findlay was extremely calm, patient, very friendly, funny, helpful and professional. Really I had a nice time with him. He encouraged me lot. I passed my test in Kirkcaldy (MPTC). So I want to thank him lot & lot. I know this is not enough................... I will recommend him to anyone that wants driving lessons. (Sam - Edinburgh)



Sampath Krishnasamy

- Edinburgh

I thoroughly enjoyed learning with Dimitri, not only is he a an exceptional instructor, he managed to make the process fun and enjoyable. He really cares and I am certain I would not have passed first time round had I not been coached by him. Thank you!!



Alfonso Leal del Ojo

- Edinburgh

Thanks very much . Passed out at Currie centre. Dimitri kewl instructor helped to correct my bad driving habits quickly to get the license. Very much convenient driving sessions timings/on time. Best wishes. I would recomend my mates to you.



Morlin

- Edinburgh

I would like to say a huge thank you to jonathan who had a lot of patience with me and give me so much confidence. Jonathan was allways on time and the car was allways very clean. I cant thank you enough i will miss you :) Claire E passed in currie :)



Mrs Claire Edwards

- Gorebridge



When I failed my test twice, I felt I needed a change of instructor, which is why I contacted Drive Me Bananas.




I rang, left a message and Dimitris called me back that evening from Greece, to arrange my first lesson with him!




This morning, only four weeks later, I passed my test with only three minors.




I am absolutely delighted. Dimitris is an excellent instructor, very patient and calm at all times. I would recommend him to anybody.




Many thanks.


Graeme Lilley



Graeme Lilley

- Melrose



This is a HUGE thank you to Dimitri. I have passed my test at Musselburgh and cannot fault the service I received.




Dimitri is a great guy and an even better instructor. I have made a friend as well as gained a driving licence.


Keep it up you are an inspiration to other instructors.



John Hanna

- Edinburgh

Dimitri you are trully the best teaher i could have asked for. I passed frist time even after taking a month and a half break from learning. You have been very patient, dedicated and always been a joy to have sessions with you. thanks a million!!!



Astor Vidal

- Edinburgh



I had 5 years experience abroad before arranging lessons for the UK test with Jonathan at Drive me Bananas. I have had experience with several instructors over the years and would thoroughly recommend taking lessons with Jonathan. He is patient and reliable, and teaches safe, practical driving. I did not feel pressured to buy more lessons than required to pass the test.





John M

- Currie

Hurrah! I have just passed my test first time with Jonathan. He was extremely calm, patient, helpful and professional. I enjoyed learning thoroughly and would highly recommend Drive me Bananas!



Rowan Paton Risby

- Edinburgh

I used drive me bananas to get trailer lessons sit my trailer test, very good service and a nice unintimidating car and trailer setup do it all in.



alistair Kay

- Edinburgh

Firstly i would like to thank Jonathen for all his hard work in getting me ready for my test in such a short lenth of time. I had my first lesson on the 18th of August 09 and i passed my test today (15/10/09). Jonathen was always on punctual and he put me at ease from the very first lesson. He was very clear when he was teaching anything and he was happy to go through anything i felt i needed to do again. Jonathen's relaxed attitude played a big part in me passing so quickly and first time. I would highly reccomed doing your lessons with Drive Me Bannanas as it is an amazing driving school. Thanks again Jonathen. Darren Kinsey. (Passed First time at Haddington Test Center 15/10/09)



Darren Kinsey

- Edinburgh

I learned to drive with Lyn. Who was fantastic and put my nerves at ease. I passed my test in October 2009. I just want to thank Lyn for being so good with me and helping my get through my driving test and building up my confidence. You where a star thanks again.



Stacey Andrews

- Bonnyrigg



what can i say the fact that i even passed says it all lol!




I passed with Jonathan Smith at Currie, i found him very professional and punctual, lessons were well planned and Jonathan had great patience with me. Would recommend D.M.B to anyone who is considering taking lessons. I went on to do the Pass Plus and glad i did, i found it gave me even more confidence on the road once i had passed.


Thank you Jonathan i could not have did it without you!!!!



Fiona Mellor

- Bonnyrigg

I found I had to learn to drive quickly and had no experience whatsoever. I learned with Adrian Palmer and in just over 30 hours semi-intensive, became a confident driver and passed my test first time on 28th April 2009. I progressed far more quickly than I would have thought and the teaching style was informal, yet prepared me (initially a terrified driver) to be fully confident, which I now am. I can highly recommend Adrian as I never thought I could pass first time!



Aidan McGlinchey

- Edinburgh

Drive me Bananas is an excellent driving


school. My instructor was down to earth and


calm which meant that I gained in confidence


in my driving ability quickly. Great at getting


your polished on manouvres which is really


important in order to pass your test.



Kiri Bains

-Edinburgh

I took driving lessons from Jonathan Smith ADI from Drive Me Bananas, and found him very professional, helpful and encouraging. The lessons were well planned and adjusted to my driving abilities and experience. I would highly recommend Drive Me Bananas to my friends for driving lessons in future.



A W Yong

- Edinburgh

The fact that I passed my test says it all! A huge thank you to Jonathan (who was punctual and reliable) for all his support, encouragement and, above all, patience!



Carmel Thompson

- Dalkeith

I took A\an 18 hour intensive course for an


automatic car carried out over 3 days with


the test coming on the third day.



At the initial hour assessment, the instructor


(Jonathan Smith) estimated exactly the right


time I'd need ahead of the test. I'd had


experience of 2 instructors before him and I


definitely felt that Jonathan had both a much


clearer grasp of what was actually needed to


pass the test (which I did thanks to him first


time). The instructor also had a much better


idea of how to instill confidence in a learner


driver than previous instructors I've had.



Jonathan Asante

- Edinburgh

Great service provided and very beneficial. Instructor was also very helpful and supportive.



Charmaine Ooi

- Edinburgh



I

felt the driving school were very professional at all times with a friendly attitude towards pupils,the cars were always clean and fresh smelling, and the instructor went out his way to fit me into slots for tuition.




i passed my driving test with only 2 minors, that says it all for me!


highly recommended!.



Scott

- Dalkeith

Drive Me Bananas are great!!! They were really patient, as I was a bit hesitant, but they really built up my confidence and now I love driving!



I had been with another driving instructor previously, but felt very uneasy, Drive Me Bananas made me feel comfortable. No doubt the best thing I ever learnt to do was drive, and Drive Me Bananas deserve all the credit for helping me. Would completely recommend them.



Suzanne Amos

- Bonnyrigg

Many thanks to Tracy and Jonathan for all the hard work when preparing me towards ADI Part 3 exam. Guys, before I came to you, I was completely lost in whole "role play thing" and without a doubt I would've failed!!!




Thanks again and I'm looking forward to carrying along the with the best in industry...




Msg for all PDIs out there: "If you are looking for top class ADI training and friendly trainers, this is the best place to come to."


(Michal Jediny, passed ADI Part 3 exam first attempt in Dunfermline Test Centre 11.08.2010)



Michal Jediny ADI

- Edinburgh